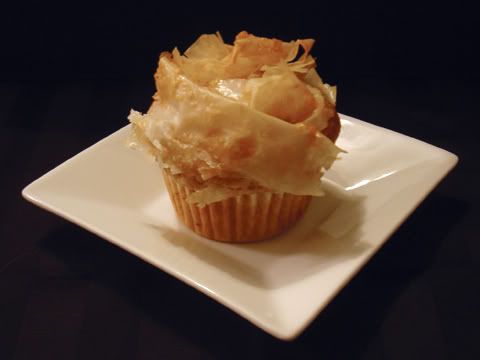 Ah… the lighter side of horror. The movies that are more on the sweet side, making us giggle. Maybe you would like a funny monster movie night? I'm sure your victims…er… guests, would approve. I just know that once they've bitten into the vampire bites they will keep coming back for more. And they will be all wrapped up in the sweet little mummy cakes…
OK… enough bad repartee… on to the recipes.
Xoxo
Dine Deadly,
Zombirella
Vampire Bites
Suggested Movie Accompaniments:
The Fearless Vampire Killers or Pardon Me, But Your Teeth Are In My Neck (1967)
Once Bitten (1985)
Cake Ingredients
1 cup sugar
1/2 cup vegetable shortening
2 cups all purpose flour
4 egg whites (save the yolks for the mummy cakes… if you aren't making them, save for breakfast)
1/2 cup buttermilk
2 tsp vanilla extract
1/2 tsp salt
1 tsp baking soda
1 tsp baking powder
1 cup boiling water
Directions
1. Preheat oven to 350ºF
2. Cream together the sugar and shortening until soft and completely incorporated.
3. Mix in buttermilk, vanilla and eggs.
4. Sift in all the dry ingredients, and mix
5. Pour in the boiling water, and mix batter until smooth and no longer lumpy.
6. Pour into cupcake pan lined with muffin cups.
7. Bake for 20 to 25 minutes or until firm in the centers.
Filling Ingredients
2 cups cold milk
1 box instant vanilla pudding
1 can (21 oz) cherry pie filling
1 Tbs red food coloring
Directions
1. Wisk the milk and pudding together until the pudding mix is dissolved.
2. Stir in the pie filling and add food coloring.
3. Mix well. It should look like the horribly obvious fake blood of a 70's grindhouse flick.
For Frosting
You can use your favorite premade white frosting, or do what I did and mix together 1 12oz can of frosting with 1 12oz tub of whipped cream cheese. I know, I know… they make cream cheese frosting, but for me its too sweet, tastes nothing like cream cheese, and is not the right shade of pallid white to give that pasty drained victim look…
To Assemble
Cut out a large circle from the top of the cupcakes… this is easier if you angle your knife so that the piece you cut out is like a short cone shape, save for a "lid". Scoop out a little bit of the center of the cupcake, being careful not to break the sides or go all the way to the bottom. Fill the now hollow cupcake with the blood red filling, and put the "lid" back on.
Swirl on your frosting, liberally all over the top. Make fang marks using a toothpick or skewer, and drizzle a little filling coming out from the holes… or you can use some store bought decorators gel… Then, of course… enjoy.
Mummy Cakes
Suggested Movie Accompaniment:
Abbott and Costello Meet the Mummy (1955)
Cake Ingredients
1/2 cup almond butter
1 cup honey
2 tsp vanilla extract
1/2 cup brown sugar
1 1/2 cups buttermilk
4 egg yolks
2 1/2 cups flour
1 tsp baking powder
1 tsp baking soda
Directions
1. Preheat oven to 350ºF
2. Mix together almond butter, honey, vanilla, sugar, buttermilk and egg yolks. Mix well.
3. Sift in flour, baking powder and baking soda. Mix until smooth and there are no more pockets of dry flour.
4. Bake for 20 minutes, and remove from oven… but don't turn it off yet.
5. Drizzle a little honey over the top of each and let soak in.
For Decoration
Half a roll of filo dough, cut or torn into 1 inch strips
1/4 cup of butter, melted with some brown sugar
1. Paint, or even dip, the filo strips with the butter mixture.
2. Wrap the strips around the top of the cupcakes, starting from the center and moving out to the sides.
3. Put back into the oven for 5 to 10 minutes, until the filo strips are crisp and golden.